Persona mapping is a powerful tool. It forces you to walk in stakeholders' shoes, experience their challenges and understand the ways you can support their needs and goals. But as useful as it may be, it doesn't appear to be widely utilized in the railway industry.
At the 2019 Railway Interchange (RI) Conference, we wanted to tap into the crowd of international experts, leaders and clients to demonstrate how railway professionals can use persona maps to strengthen client engagements.
Meet our persona, Chief Engineer Joe
In a collaborative session with RI attendees, we examined the role of Chief Engineer Joe and his challenge: Managing the day-to-day aspects of a railroad.
We envisioned ourselves in Joe's place to break down what a Chief Engineer might say, do, think, and feel about the challenge. The resulting persona map looked like this: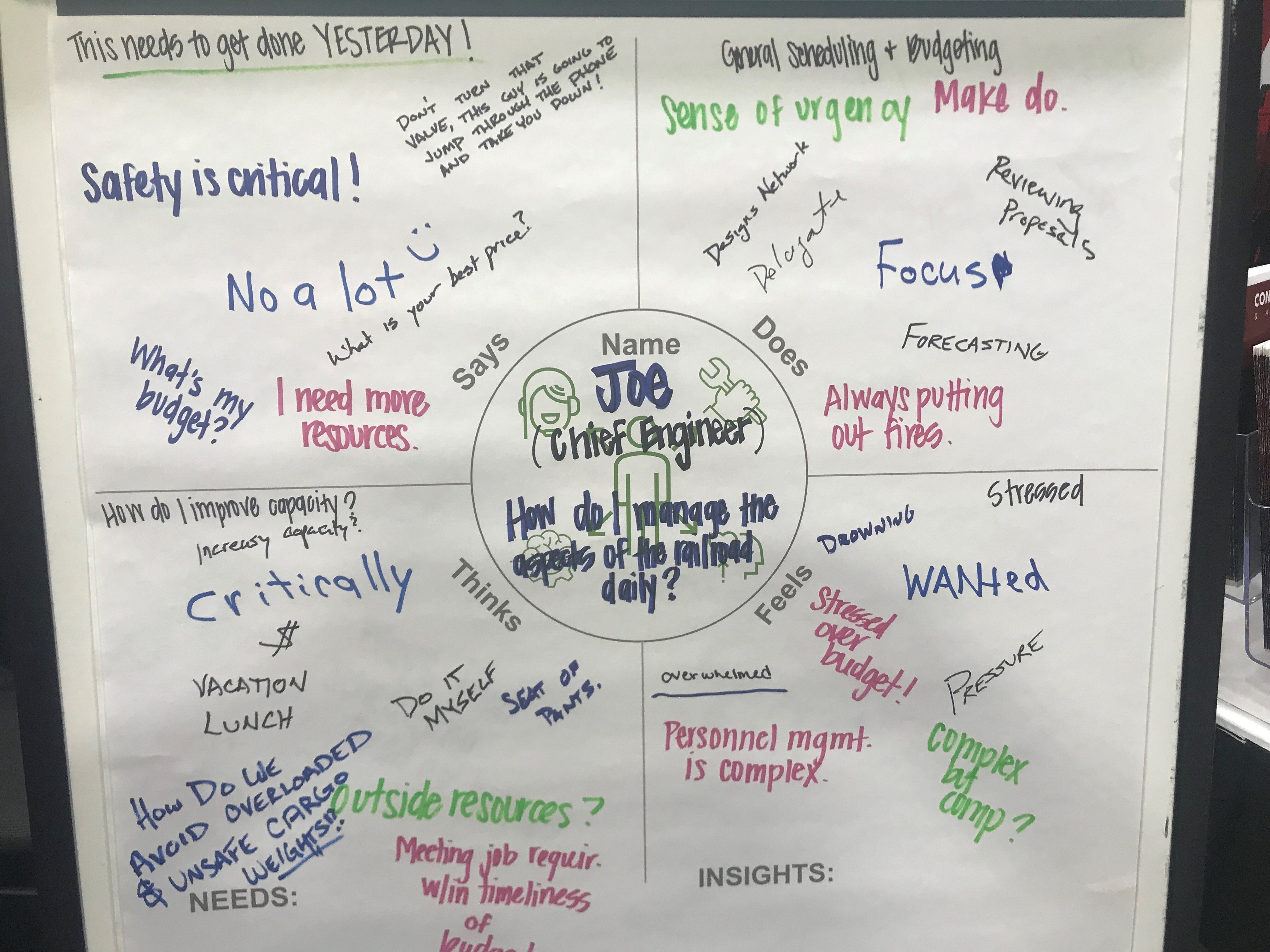 Creating a strategy using empathy
By building empathy around the various aspects of the challenge, we could easily recognize a Chief Engineer's most pressing needs. Then, we used his needs to develop insights around what it's like to be a Chief Engineer in this scenario.
Needs: Safety, resources, cost efficiencies and timeliness.
Insights: The Chief Engineer works in a high-pressure position thanks to complex daily responsibilities, all of which must be handled with a sense of urgency.
With a clear understanding of what it's like to be Chief Engineer Joe, we were equipped to create a vision statement on how to help Chief Engineers manage railroads.
Vision statement: Our goal is to safely support the daily operations of the railroad while both maintaining and expanding capacity of our assets in a cost-efficient effective manner.
Piecing together the design thinking puzzle
You might be asking yourself: What do I do with this information? Persona mapping is a piece of the larger design thinking puzzle (see the figure below for the six-step process). It's a foundation for observing, engaging and immersing yourself in the stakeholders' experiences to define their needs.

For our exercise, we gathered that the best way to meet Joe's needs would be providing a dedicated, talented, diverse technical team at the most cost-effective price. In a real-world scenario we would continue by ideating, prototyping and testing solutions to make that happen.
Chart your design thinking voyage
Persona mapping helps you form deeper connections with stakeholders. It's a reminder that they're people with unique thoughts and feelings. Deciphering what they say, do, think, and feel regarding a challenge highlights the role you can play in supporting their success.
For more on using persona mapping and other design thinking practices to elevate your stakeholder relationships, visit the design thinking page, send me an email or connect with me on LinkedIn, our team works in a manner viewing relationships as partnerships to accomplish the defined missions.